Maitai Polynesia Bora Bora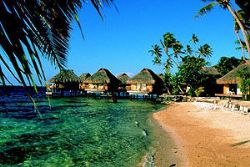 Maitai Polynesia Bora Bora
Within walking distance of Matira Point's sandy beaches, this Polynesian-style retreat naturally blends with its environment and welcomes you with traditional hospitality. Around a sandy beach giving way to the emerald lagoon, bungalows and rooms are comfortable and two restaurants- casual or fine dining- will complete your experience.
Bonus: Vacation includes: Roundtrip airfare on Air Tahiti Nui, 5 n!-->
...

Pleasant Holidays, in business since 1959, is one of the leading travel companies serving Hawaii, Mexico, the Caribbean, Costa Rica, Continental United States, Tahiti and the South Pacific, sending more than 350,000 visitors to its destinations annually from over 260 cities nationwide.
From the design to the operation of our travel programs, our commitment is to provide you with an enjoyable and memorable journey. Our dedicated, knowledgeable, and well-trained team has perfected thi
...
from Los Angeles - Tues, Thur, Fri, Sun