Villa Del Palmar Cancun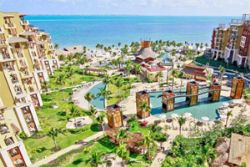 Villa Del Palmar Cancun
This beachfront luxury resort is located in the pristine beaches of Playa Mujeres. Villa del Palmar Cancun offers splendid views from any of the 415 Suites of the lush gardens, stunning swimming pools and Caribbean Sea, all in an idyllic setting. All Suites are decorated in contemporary zen décor, and all provide a terrace or balcony.
Rates quoted are per person, based on double occupancy unl!-->
...

Pleasant Holidays, in business since 1959, is one of the leading travel companies serving Hawaii, Mexico, the Caribbean, Costa Rica, Continental United States, Tahiti and the South Pacific, sending more than 350,000 visitors to its destinations annually from over 260 cities nationwide.
From the design to the operation of our travel programs, our commitment is to provide you with an enjoyable and memorable journey. Our dedicated, knowledgeable, and well-trained team has perfected thi
...